8 Family History Apps

These 8 Family history apps can provide an easy and fun way to research your genealogy on the go. With mobile apps, you have ready access to a massive database at your fingertips. Plus, building your family tree or tracing your genealogy is only a matter of few taps.
Anyone interested in learning more about their family history will find this roundup of genealogy apps very useful.
1. Ancestry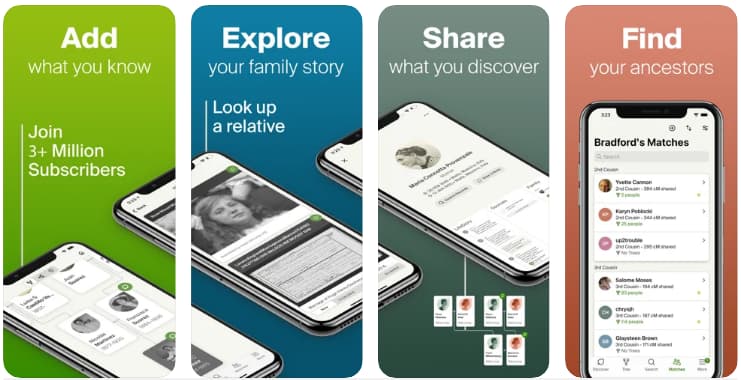 Features:
Access to a broad range of public records, including the 1940 U.S. Census
Upload family pictures and receive messages from Ancestry users
Build your family tree and see a map of your ancestor's life stories
Ancestry is the go-to family history app for many genealogists, and that's not surprising considering its vast database and many useful features. The app gives you access to over 27 billion records.
With a few taps, you can explore your family origins, share stories, upload photos, and add new family members. The app syncs automatically with your Ancestry.com account so you can access all your online records on the go.
Among the many interesting tools is the Hints feature. It offers record suggestions based on your family tree, and you can customize the tool to sort hints using several filters.
The Ancestry app is accessible through Android devices and iOS/Apple phones and tablets. It is available with a subscription or an optional free trial.
2. Family Search Family History App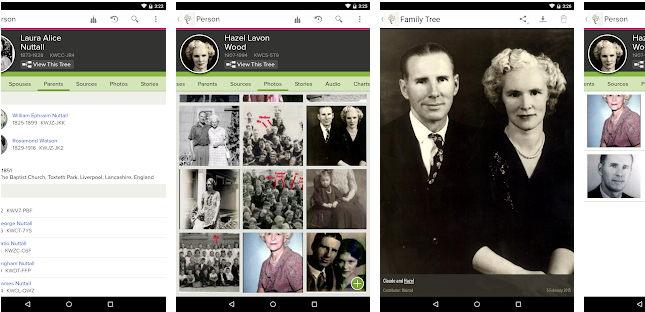 Features:
Easily build your family tree
Discover other FamilySearch users you are related to
Learn more about your family history using record hints
FamilySearch.org gives users free and on-the-go access to a vast collection of digital records through the FamilySearch Family Tree. The good thing about this family history app is that you don't need to sign into your FamilySearch account to search for an ancestor.
It is easy to archive your life stories with the app. Simply add your favorite family photos, genealogical documents, or family stories to your family tree, and it stays in the FamilySearch vaults forever!
You can discover more about your family and see how you relate to other FamilySearch users who are alive. We use this one because of its massive database size best family tree app free
The FamilySearch Tree app is available for both Android and iOS/Apple devices.
3. FamilySearch Memories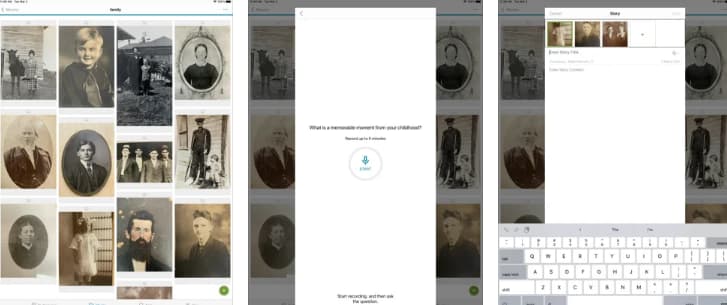 Features:
Save and tag people to your photos from your family tree
Add audio and stories to photos
Collect family records, including journals and recipes, in one place
FamilySearch Memories is another excellent family history app from FamilySearch.org focused on creating and preserving essential memories. It is easy to collect documents, photos, audio clips, and even favorite family recipes and link them all with your family tree.
Start by creating a FamilySearch account if you don't already have one, and then download the Memories app to sync with the account. The app has an easy-to-use, accessible user interface that lets you quickly add photographs (maybe something from old family gatherings) and tag faces.
Your relative's profile in your FamilySearch Family Tree is automatically updated with each image you tag from the Memories app. You can tag genealogical documents, family jokes, stories, and more.
Head to Google Play and download the FamilySearch Memories app for your Android devices or visit the App Store for iPad and iPhone devices.
4. MyHeritage

Features:
Reveals new information about your family history by matching your family tree to other family trees
Add photos and entire branches to your family tree in one tap
Artificial Intelligence technology breathes new life into old photos
MyHeritage takes the lead when it comes to powerful, innovative technology. Many of the features accessible on the website are also available on the app, making it easy to search for relatives, scan photos, and build your family tree on the go.
The app uses the Deep Nostalgia feature, which is an AI technology, to recreate past moments and historical photos from your family history. With the feature, you can animate photos of ancestors and show your kids how their grandparents or even great-grandparents used to smile.
You also get new information about people in your tree using the app's Discoveries feature. The app can access billions of online records, so finding a relative from the past shouldn't be a problem.
Building a family tree with the app is very easy. Simply enter a few names and watch as the app automatically creates your family tree using matches from a collection of millions of other family trees.
MyHeritage app is available for download on iOS/Apple devices and Android devices.
5. AncestryDNA

Features:
See how you are connected with others who match your DNA results
Discover your family's migration path
Learn more about your geographic origins and see your ethnicity estimates
Medical genetic services and familial cancer counseling provide tons of data for building medical information databases. You can take advantage of these services to explore your genetic genealogy. That's where the AncestryDNA app comes into play. It is one of the most reliable family history apps that use medical information to help you trace your ethnic origins.
The app includes features and filters that can sift through millions of DNAs to bring you the closest matches. The side-by-side ethnicity comparison with people who share your DNA makes it easy to discover living relatives.
Buy the AncestryDNA test kit and download the app for free on Google Play or App Store. Take a photo of the barcode on the kit from the app to activate your DNA test.
6. Find A Grave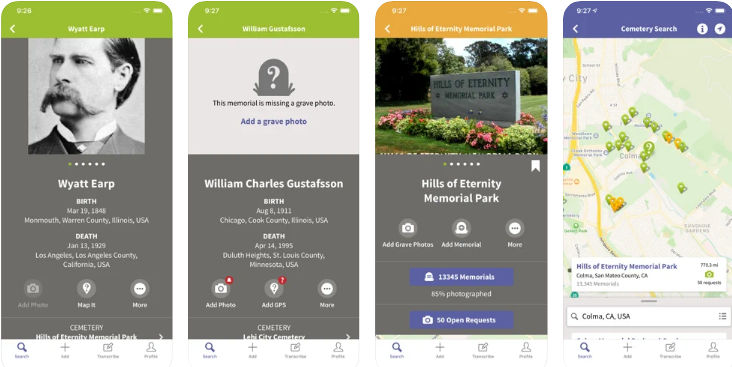 Features:
Free access to the most extensive online collection of burial information
Track virtual cemeteries, photos, and memorials
Share gravesites through emails and Facebook
With records of over 180 million and access to more than 200,000 headstone photos from around the world, Find A Grave is an ideal app for finding and visiting your loved one's final resting place.
The app is easy to use, and leaving notes or flowers for your memorials is pretty straightforward. All you need to do is search loved ones by cemetery location, name, birth, and death year, and the app will show matching results.
You can snap and share headstone photos instantly using the app to help others quickly find and honor the memories of their loved ones. You can also request a headstone photo or visit a virtual grave on the go.
Find A Grave is available for download on App Store or Google Play.
7. RootsMagic

Features:
Add family history files on your device using Dropbox
Research logs, address book, repository list, and more
Perpetual calendar, date calculator, relationship calculator, and more
The RootsMagic app is a companion tool to the award-winning RootsMagic genealogy desktop software. This app gives you quick access to your family tree, letting you view your family tree information on the go. However, you cannot add or edit your family tree from the app.
Fortunately, you can still use the app even if you don't have the RootsMagic desktop software. The free version of RootsMagic Essentials software allows you to create, edit, and upload your genealogy files from your computer to the app.
You can download the RootsMagic app for your iOS/Apple devices.
8. Findmypast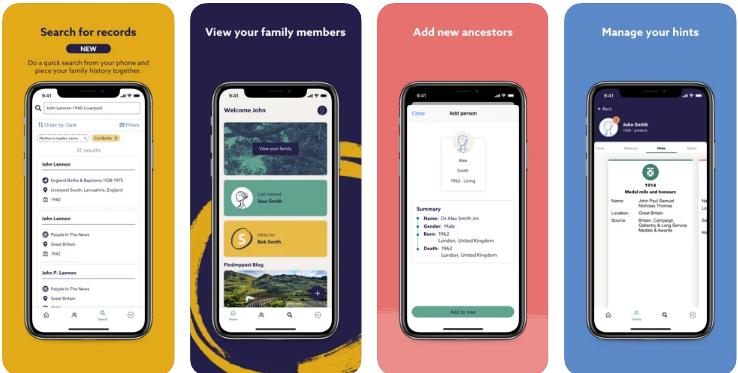 Features:
Access to billions of family records
Add new relatives from your mobile device
Record hints notifications
The Findmypast genealogy app is one of the no-frills family history apps available for Android and iOS/Apple users. The app allows you to add a new ancestor to the records and perform a quick search from your mobile device.
Hint notifications, such as census records, marriage and birth certificates, and tree-to-tree hints, are sent to you as soon as the app finds a match. You can review the hints and add them to your family tree or reject them if they appear unrelated.
Users can't view their family tree in the current version. However, you can access individual ancestral profiles. 
Family History Apps FAQs

How can I trace my family history?
Start with the facts you know and work back to what you don't know. This usually means writing down your full name and birth date, your parent's name, and all the data you know about them. Enter the data you collected into your preferred family history app to get pointers to what you are looking for.
Which app can I use to draw a family tree?
Not every family history app has a family tree view or lets you draw a family tree. If you want to create a family tree, consider getting Ancestry, Family Historian 7, MyHeritage, and Family Tree Maker.
What is the best free genealogy software?
Different genealogy programs work for different people. However, the four major genealogy websites offering free apps are Ancestry, MyHeritage, Findmypast, and FamilySearch.
Is FamilySearch safe?
FamilySearch.org is not only safe but also offers users complete privacy. Only assigned users can view and manage data in a private space of the FamilySearch program.
So what about the free family history apps?
These are just a few options for free family tree apps, each with unique features and capabilities. Exploring these apps and seeing which one aligns best with your needs and preferences is recommended. Additionally, while the best family apps are free, access to some advanced features or records may require a subscription or additional fees.