Researching Family History Online
Researching family history online has become an increasingly popular pastime, thanks to the abundant resources and tools. Whether you're just starting or have been delving into your genealogy for some time, the internet offers many databases, archives, and networking platforms to help you piece together your ancestral puzzle. This is an engaging and informative hobby and creates a sense of connection to your past, allowing you to understand more about your heritage and family roots.
Choosing the right tools for your family history online research is crucial to making progress and getting the most accurate information. Websites like FamilySearch.org and Ancestry.com are valuable resources that provide access to census data, military, immigration, naturalization, and land records. DNA testing services can also offer insights into your genetic makeup, enabling you to discover unexpected connections and delve deeper into your ancestries' geographical origins.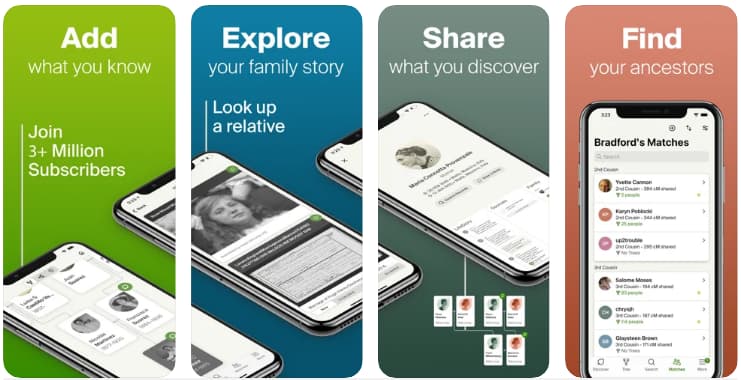 Family History Online Research App
As you embark on this journey of self-discovery, remember that patience and persistence are key. There will be challenges along the way, but uncovering your ancestors' stories will ultimately become an invaluable treasure trove of memories, connections, and insights. So dive in and allow yourself to be captivated by your family's unique tale as it unfolds.

Key Takeaways
The internet is a valuable resource for researching your family history online, providing access to databases, archives, and networking platforms.
Choosing the right tools and resources is essential for accurate genealogical research, such as websites like FamilySearch.org and Ancestry.com, as well as DNA testing services.
Practice patience and persistence in the face of challenges, remembering that the journey of self-discovery will yield a wealth of ancestral insights.
Choosing the Right Tools
When diving into your family history online, selecting the right tools can make all the difference. Here, we'll discuss three popular platforms that can get you closer to your roots: MyHeritage, Ancestry, and FamilySearch.
MyHeritage
MyHeritage is an excellent starting point for your genealogy journey. This platform offers a user-friendly interface and a vast database of historical records. You can explore MyHeritage's features with a free trial and decide if it's right for you. The key perks of this tool include:
The ability to build an interactive family tree.
Smart Matching technology connects you with potential relatives.
DNA testing services to further enhance your search.
Ancestry
Ancestry is another popular choice in the genealogy world. With over 40 billion records as of 2022 and millions of users, you're sure to uncover new information about your family history. From accessing historical documents to utilizing their DNA testing services, Ancestry offers a comprehensive approach to genealogy research. Some notable features include:
A user-friendly interface for building your family tree.
Access to numerous census records, military archives, and other valuable resources.
A 14-day free trial, allowing you to test the platform before committing.
FamilySearch
FamilySearch is your go-to resource if you're looking for a cost-effective option. As a free platform, it offers an extensive collection of genealogy records and tools to assist your research. Notable features of FamilySearch include:
Ability to create a detailed family tree.
As of 2022, FamilySearch has over 16.8 billion records, making it one of the largest free databases.
Guidance on conducting research through various courses and webinars.
In summary, MyHeritage, Ancestry, and FamilySearch each offer unique tools and features to aid your family history research. By leveraging these platforms, you can unlock your ancestry and connect with relatives you never knew existed.
Understanding and Researching Your Family History Online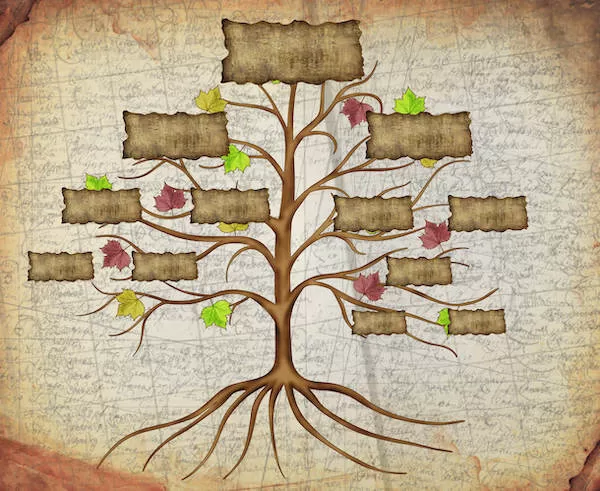 The Family Tree
Family Tree Setup
Starting your online family history exploration begins with setting up a family tree. A good family tree allows you to trace your roots and helps to establish a clear understanding of your ancestors. To create a family tree, first gather all the known information about your family, such as names, dates, and relationships. This initial data will serve as your groundwork for further research.

Work With Billions of Records
Once your family tree is set up, you can dive into the immense world of online genealogy records. A wealth of data is available, including billions of records comprising birth and marriage certificates, death records, immigration documents, and much more. These records are vital for Recording Your Family History and provide a solid foundation for uncovering your ancestors' stories.
To make the best use of available records, it's essential to:
Learn to navigate various online genealogy databases
Develop a systematic approach for searching and cross-referencing information
Save and organize your findings effectively
Focus on Names and Dates
Although focusing on juicy stories and fascinating facts about your ancestors is tempting, names and dates are the bread and butter of family history research. Concentrating on these details will help you to:
Accurately track your ancestors through the years and across different records
Verify relationships and connections between family members
Identify any potential gaps in your research
As you explore, keep updating your family tree with new information. Remember to be patient and persistent, as discovering your family history can be rewarding and challenging.
Using Photos in Genealogy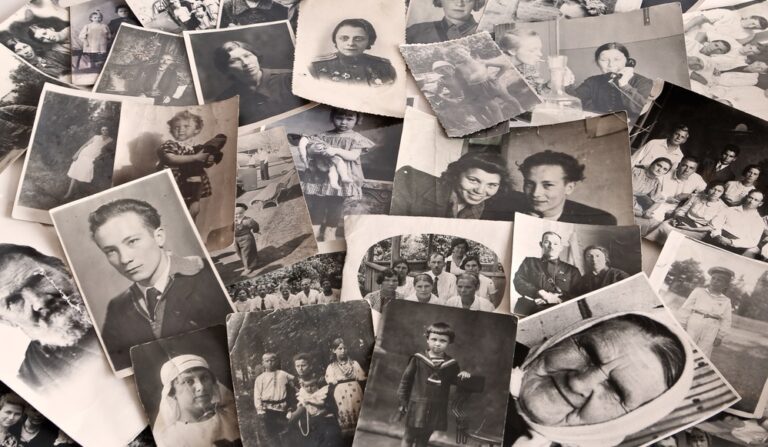 Collection of Old Family Photos
Have you ever thought about how photos can enhance your genealogy research? Well, you're in luck because exploring your family history using photos is exciting and informative. Let's explore how you can use your family pictures to expand your research online.
Firstly, you can make use of Google's Image Search. Simply drag and drop your image from another website or upload a picture from your computer to begin your search. This nifty feature will help you discover more about the people, places, or periods captured in your family photos.
Furthermore, you can try FamilySearch to store and share your family photos. After logging in, select the Memories tab from the main menu and click the Add Memories button. You can easily view and manage existing photographs, stories, documents, or audio clips related to your family history.
Speaking of online tools, Google Photos offers another great way to organize, store, and even create collages or animations of your family memories. You can make an album to keep everything in one place, and the cloud storage ensures you don't lose any precious memories.
To make your photos even more informative, you can add location data with the help of photo organizing software. Open the Map tab, search for the address, and drag your photos onto the map. Click the green tick to approve the new location data, and now your family history will be backed by geographical context.
Now that you have these techniques to use photos in your genealogy research, give them a try! Remember, a picture is worth a thousand words and can unlock countless stories about your ancestors. 
Digging Deep into Historical Records
Many resources are available to help you uncover fascinating details about your ancestors and researching your family history online. Utilizing public records and various online tools, you can dig deep into your family history in no time.
First things first - have you ever heard of FamilySearch.org? It's a goldmine for genealogists. Offering access to the world's most extensive collection of free family trees, genealogy records, and resources, you'll find yourself exploring countless connections from the comfort of your home. Don't forget to check out MyHeritage as well. A DNA test lets you access billions of historical records and discover fascinating insights about your family's genetic makeup.
Setting clear research goals before diving into the vast world of online genealogy databases is essential. Ask yourself what you want to learn about your ancestors. Are you looking for birth, marriage, or death records? Perhaps you want to discover more about their careers or military service. By establishing a focused research plan, you'll efficiently navigate the countless records at your disposal.
Explore Newspapers.com to uncover historical news articles featuring your family members. This extensive archive can help provide a more vivid picture of your ancestors' lives and offer valuable insights into the times they lived in.
Here are some essential tips to help you in your online family history research:
Always double-check information and verify its accuracy.
Be open-minded and patient; some records may provide unexpected findings.
Maintain detailed records of your search results and progress.
Don't hesitate to reach out to other researchers or family members who may have valuable insights.
You can now dig deep into online historical records, uncover your family's history, and connect with your ancestors. You can make exciting discoveries about your family's past with patience, perseverance, and the right resources. 
DNA Testing for Genealogy
How do these DNA tests work?
So you've decided to dive deep into genealogy and want to explore your family history? One of the most significant advancements in recent years has been the introduction of DNA testing for ancestry and genealogy purposes. This can be a game-changer for unlocking the secrets of your past.
How do these DNA tests work? Many genealogical DNA tests examine your autosomal DNA, alongside Y-DNA and mtDNA tests, which focus on your direct paternal and maternal lines. These tests can provide detailed information about your ethnicity and help you discover long-lost relatives.
Here are some popular DNA testing companies that could help you on your genealogy journey:
AncestryDNA: This service provides ethnicity results, DNA matches, and an option to combine it with a World Explorer membership to access international records. You can find more about their services here.
MyHeritage: With MyHeritage, you'll get ethnicity results and cousin matches. They also have an extensive database of historical records and family trees. Check out their website here.
FamilyTreeDNA: They offer autosomal DNA, Y-DNA, and mtDNA tests. You can learn more about their services here.
23andme: As one of the pioneers of direct-to-consumer DNA testing, 23andMe has become a leading provider of health-related and genealogical information.
When you receive your DNA results, you'll get information about your ethnicity and potential DNA matches from their database of other users. These matches can help you find cousins, fill in gaps in your family tree, and even provide clues about unknown ancestral lines.
But before you embark on this exciting journey, remember these two critical points:
Always double-check the information from DNA matches, as the match may be coincidental.
Approach newly discovered family members with sensitivity and respect, as not everyone may be comfortable discussing their family history or sharing information.
Now that you have a better understanding of DNA testing for genealogy, you're one step closer to unraveling the mysteries of your family history. Good luck on your adventure!
Frequently Asked Questions
What are the best free genealogy websites?
Several free genealogy websites are out there that you can use to trace your family history. Some popular options include FamilySearch, Findmypast, and MyHeritage. Each site offers unique tools and resources to assist you in discovering your ancestors and constructing your family tree.

How can I access the National Archives online?
The National Archives provides a wealth of information for family history research. You can access their online catalog, the National Archives Catalog, to search for documents and records related to your ancestors. Additionally, you may explore their genealogy-specific resources to help you navigate their extensive collection.

What is the difference between FamilySearch and Ancestry.com?

FamilySearch and Ancestry.com are prominent genealogy websites but differ in some essential aspects. FamilySearch is a free, non-profit organization operated by The Church of Jesus Christ of Latter-day Saints. It focuses on providing access to records and collaborative tools for creating and editing family trees. Ancestry.com, on the other hand, Ancestry.com is a subscription-based service offering extensive records, personalized hints, and DNA testing for a fee.
Are there any offline family tree software options?
Yes, there are offline software options for constructing your family tree. Some well-known examples include Gramps (a free, open-source program) and Legacy Family Tree (a paid software with advanced features). These applications allow you to work on your genealogy projects without requiring an internet connection.
What are some tips for using Family Tree Maker?
Family Tree Maker is a popular genealogy software for managing and organizing your family history research. To make the most of it, try the following tips:
Regularly backup your data to avoid any loss
Utilize the built-in research tools, such as web search and mapping features
Merge duplicate individuals to maintain accuracy
Share your discoveries with family members by creating charts and reports
How can I effectively search for my ancestors on genealogy websites?
Searching for your ancestors on genealogy websites can be a satisfying experience as you uncover your family's past. Here are some tips to guide you:
Begin with what you know: Start by entering known information about your ancestors before seeking additional facts
Use wildcards: If you're unsure about a name's spelling, use wildcard characters like * or ? as placeholders
Narrow your search: Utilize filters to focus on specific locations or timeframes
Keep track of sources: As you uncover information, document your sources to ensure accuracy and future reference
These tips should help you research your family history online and uncover your family's unique story.